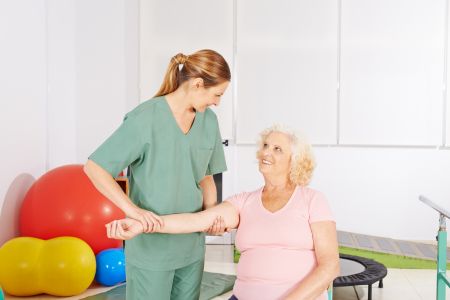 A stroke is caused by interruption of blood flow to the brain or rupture of blood vessel in the brain. According to the Heart & Stroke Foundation of Canada, "If you are having difficulty moving around, using an arm or leg, getting your balance or coordinating your movements, a physiotherapist will be able to help you. He or she will teach you special exercises and techniques to improve muscle control, balance, mobility and walking."
Physiotherapy For Stroke
During your initial assessment at MapleCare Physiotherapy Clinic, we will discuss your short- and long-term rehabilitation goals. These goals will then be at the centre of your rehabilitation.
Neurological stroke physiotherapy can help:
Improve Balance and Walking
Increase Ability to Roll / Move in Bed / Sit / Stand
Reduce Muscle Spasms, Pain and Stiffness
Increase Strength
Retrain Normal Patterns of Movement
Increase Affected Arm and Leg Function
Increase Energy Levels
Increase Independence and Quality of Life
Reduce the Risk of Falls
At MapleCare Physiotherapy Clinic we have physiotherapists who are trained in treating stroke patients. We provide physiotherapy either at your home or in our clinical setup. Please feel free to call and talk to our physiotherapist if you have any questions.
Our goal is to allow our patients to lead as fulfilling lives as possible by increased function and independence.