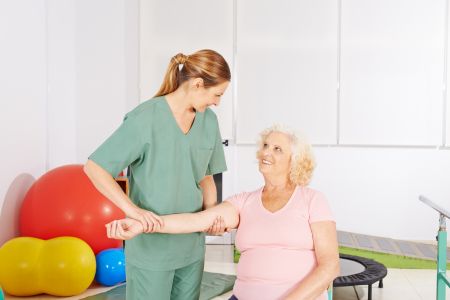 What is a Stroke?
A stroke is a sudden stop of the brain function due to; a restriction or obstruction of the blood flow to a specific region of the brain, known as an ischemic stroke, or a rupture of a blood vessel in any area of the brain, known as a hemorrhagic stroke. This can result in sudden loss of brain function that can cause physical limitations, coordination and movement disorders, cognitive or behavioural challenges, among other limitations. The symptoms depend on the severity of the stroke and the region affected in the brain that make the presentation unique for each patient.
What is Stroke Rehabilitation?
Stroke rehabilitation (rehab) is the process of restoring a person's abilities following a stroke. With the appropriate rehabilitation, the brain has the ability to reorganize itself, creating new pathways. This ability of the brain helps to regain independence, movement, skills, and abilities. Research in the field of stroke rehabilitation has identified many effective therapies and interventions to help improve patient outcomes after having a stroke.
9 considerations about stroke rehabilitation
Rehab should start as soon as possible! The sooner one starts rehabilitation the more probable the recovery.
Your rehabilitation journey should continue after leaving the hospital as one can continue to improve given the correct input.
Rehabilitation should continue until functional goals are met.
Dedication, willingness to work, and expert guidance will give you a greater chance of reaching your goals.
Rehabilitation therapy should be performed by health care professionals who understand and specialize in stroke rehab.
Stroke rehab takes time! Recovery can occur over months to years.
Research has shown that individuals who participate in a stroke rehabilitation program have significantly better outcomes than those who don't.
Stroke patients should be engaging in meaningful, repetitive and progressive exercise programs.
Exercise will not always be easy following a stroke but it is essential for optimizing recovery.
Stroke rehabilitation is performed by a team consisting of some or all of the following:
Physiotherapists
Occupational therapists
Speech therapists
Psychologists
Physicians
Rehabilitation nurses
Social workers
And many more!
Benefits of Physiotherapy for Stroke Rehabilitation
Physiotherapists use repetitive movements, performed with the correct patterns and postures, to retrain the brain to complete movements properly. Training should be task-specific, meaningful to you, and oriented with your goals. The learning tasks must be completed in a specific setting that requires the right dosage, intensity and challenge for the specific condition of the patient.
Some patients recover quickly though most will need long term stroke rehabilitation to improve outcomes. While most recoveries will occur within the first 3-6 months following the stroke, neurological recovery can occur over years and research has shown that the brains' ability to learn and adapt continues. This is why continuing rehabilitation is essential to optimize the recovery of function.
Understanding the concept of neuroplasticity can help to explain how and why physiotherapy is effective for stroke rehabilitation patients. Neuroplasticity happens when the brain cells regenerate, re-establish and reorganize connections within the brain after an injury such as a stroke. Physiotherapy can help initiate or enhance the neuroplasticity process, encouraging the brain to rewire and create new neural pathways to correct mental and physical limitations and to compensate for the affected area of the brain. Without the right type of rehabilitation therapy, the brain may not repair effectively and restoration of functioning may be impaired.
A physiotherapist is a specialist in movement and exercise. The physiotherapist will create achievable goals with you and develop a unique treatment plan in order to meet your goals. Physiotherapy can help you work towards achieving your objectives, which can be:
Improving balance and walking
Increase overall function and movement
Reduce muscle spasms and pain
Increase strength
Increase energy levels
Achieve greater independence
Adapting to the new lifestyle
Reintegration into community settings
Relearning valued activities
Improve quality of life
Reduce risks of falls
Reduce spasticity
Improve transfers and mobility
Promote arm and hand use and function
Selection of appropriate walking aids
And many more!!
Why MapleCare Stroke Rehab?
At MapleCare Physiotherapy, we understand your unique condition and you can rely on the expertise of our physiotherapists to assist you in your recovery. We have specialized equipment and training to help your recovery as well. Our treatments are individualized and align with your needs, goals and desires. We offer physiotherapy services that are delivered according to your short-term and long-term functional needs. Our services are offered in our clinics, in the comfort of your home or via video conferencing.
Experienced physiotherapists:

Our physiotherapists specialize in treating strokes. We have acquired knowledge and experience in dealing with unique treatment plans combined with technology and skills to optimize the patient's independence.

Multiple service delivery settings:

MapleCare offers in-home sessions where the physiotherapist comes to you for treatment. These types of visits are available for patients in Ottawa and surrounding areas. We also offer online telerehab appointments as well as traditional in-clinic physiotherapy.

Specialized Equipment:

Our Wellington clinic has a variety of specialized equipment that has been specifically designed for those with neurological conditions, including stroke.

Balance and walking with LiteGait- A body weight support system that can help enhance balance and walking training. We can challenge your balance and your walking with the safety and support of this device.
Aerobic training with SciFit- A recumbent exercise bike suitable for people with a wide variety of abilities, including those with wheelchairs.
Functional electrical stimulation (FES) and neuromuscular electrical stimulation (NMES)- devices that apply a small electrical charge to a muscle that has become weakened or paralyzed. This can help strengthen the weak muscles. FES can also be used while walking to help move the ankle.
Dynamic Functional Orthosis- device that can help to improve hand function post stroke. We have therapists who are certified to help measure and optimize use of orthosis.
Balance and stability training with Terra Sensa Balance Mats
Other equipment for balance, strength, and hand training
Request An Appointment